Posts for: August, 2013
By Charles Dean
August 29, 2013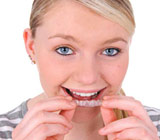 You've probably heard of the relatively new method of straightening teeth with thin, plastic orthodontic appliances ("ortho" – to straighten; "odont" – teeth) known as clear aligners. Here are some reasons you might want to consider them for your orthodontic treatment:
Appearance. Looks aren't everything, as the saying goes. But it may be that metal-covered teeth will not give you a look you want to sport for perhaps a year or more. Adults in particular find that metal braces don't always fit in with their self-image. Because clear aligners are virtually invisible, your teeth will look as they always do and it will not be obvious that you are undergoing orthodontic treatment.
Control. When you have traditional braces, you cannot take them out of your mouth yourself. They must be professionally removed when your treatment is completed. With clear aligners, however, you can take them out to eat and also for important social occasions. Of course, that means you are also responsible for wearing them as often as needed — a minimum of 22 hours a day. It's a good bargain if you can live up to it, and most find that they can.
Hygiene. One of the challenges of traditional braces is to learn to clean around them so that your teeth and gums stay healthy throughout treatment. It's not always so easy to do. With clear aligners, you can maintain your usual oral hygiene routine — and also clean the aligners themselves.
Comfort. Sometimes the rigid brackets and wires of traditional braces can press into sensitive tissues of the mouth. It's something that you will eventually get used to, but it can be uncomfortable temporarily. The material of clear aligners is flexible, so this type of irritation is not an issue.
Versatility. In recent years, the clear alignment system has been improved to handle more serious malocclusions ("mal" – bad; "occlusion" – bite). Enhancements have also been made to accommodate additional growth of molar teeth in the case of teenagers.
While there are some cases in which traditional braces are still the best option, clear aligners have more applications than ever before. They also have some clear advantages that are worth considering.
If you would like more information about clear aligners, please contact us or schedule an appointment for a consultation. You can also learn more about clear aligners in general by reading the Dear Doctor magazine article "Clear Aligners For Teenagers."
By Charles Dean
August 14, 2013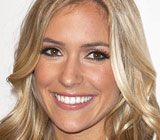 While she was pregnant with her son Camden Jack Cutler, 25-year-old Kristin Cavallari noticed an odd occurrence in her bathroom sink: "Every time I floss, my sink looks like I murdered somebody!" the actress and reality-TV personality exclaimed. Should we be concerned that something wicked is going on with the star of Laguna Beach and The Hills?
Before you call in the authorities, ask a periodontist: He or she will tell you that there's actually no mystery here. What Cavallari noticed is, in fact, a fairly common symptom of "pregnancy gingivitis," a condition that affects many expectant moms in the second to eighth month of pregnancy. But why does it occur at this time?
First — just the facts: You may already know that gingivitis is the medical name for an early stage of gum disease. Its symptoms may include bad breath, bleeding gums, and soreness, redness, or tenderness of the gum tissue. Fundamentally, gum disease is caused by the buildup of harmful bacteria, or plaque, on the teeth at the gum line — but it's important to remember that, while hundreds of types of bacteria live in the mouth, only a few are harmful. A change in the environment inside the mouth — like inadequate oral hygiene, to use one example — can cause the harmful types to flourish.
But in this case, the culprit isn't necessarily poor hygiene — instead, blame it on the natural hormonal changes that take place in expectant moms. As levels of some female hormones (estrogen and/or progesterone) rise during pregnancy, changes occur in the blood vessels in the gums, which cause them to be more susceptible to the effects of bacterial toxins. The bacteria produce toxic chemicals, which in turn bring on the symptoms of gingivitis — including painful and inflamed gums that may bleed heavily when flossed.
Is pregnancy gingivits a cause for concern? Perhaps — but the condition is generally quite treatable. If you've noticed symptoms like Kristen's, the first thing you should do it consult our office. We can advise you on a variety of treatments designed to relieve the inflammation in your gums and prevent the harmful bacteria from proliferating. Of course, your oral health (and your overall health) are prime concerns during pregnancy — so don't hesitate to seek medical help if it's needed!
How did things work out with Kristen? She maintained an effective oral hygiene routine, delivered a healthy baby — and recently appeared on the cover of Dear Doctor magazine, as the winner of the "Best Celebrity Smile" contest for 2012. And looking at her smile, it's no mystery why she won.
If you would like more information about pregnancy gingivitis, please contact us or schedule an appointment for a consultation. You can also learn more by reading the Dear Doctor magazine articles "Expectant Mothers" and "Kristen Cavallari."
Find Us
Beavercreek, OH Family Dentist
Beavercreek Dental Group
2385 Lakeview Dr, Suite A
Beavercreek
,
OH
45431
937-429-3160
Contact For Pricing Options
Our office has flexible hours to fit your busy schedule