Posts for: September, 2013
By Charles Dean
September 23, 2013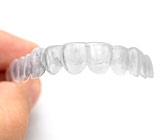 Finally: Your braces are off! Break out the taffy, bubble gum, corn on the cob... and... whoa!!... the retainer?
Yes, the retainer. As the name implies, this simple device will ensure that your pearly whites remain in the new, desired position you've worked so diligently to achieve. Here's why:
The same physiological properties that allow your teeth to move when you're wearing braces are always at work — braces simply direct that movability in controlled ways. Teeth are not set into your jaw bone like posts fixed in concrete; rather, the root portion is attached to the bone by elastic periodontal (peri – around; odont – tooth) ligaments that permit micromovement of teeth all the time. The periodontal tissues are living; therefore, they are always changing and "remodeling" (just as hair grows, skin peels, etc.) When a light orthodontic force is placed on a tooth the following processes occur:
on the pulling or tension side, the periodontal ligament will activate bone-forming cells (osteoblasts) to deposit new bone to fill in the area from where the tooth was previously, and
on the pressure side, the periodontal ligament will activate bone-resorbing cells (osteoclasts) to remove bone allowing the tooth to move in that direction.
Visualize drawing your hand forward through water: The water parts in front of your hand and fills in behind it.
Once your teeth are in their desired position and your braces are removed, your teeth will tend to return to their old position if they are not stabilized or "retained" in their new one long enough for the bone and ligament to re-form and mature around them. This can take several months. In addition, orthodontic treatment stretches collagen fibers in gum tissues to some extent, contributing to the forces that tend to shift teeth back in the direction from which they came. The gum tissues will continue to exert this pressure until these tissues remodel. This can take longer than the bone and ligament stabilization, as collagen cells reorganize at a much slower rate.
Types of Retainers
The type of retainer you will use, how frequently and for how long will depend on your unique situation. The most familiar type of retainer is removable and one you may not have to wear all the time, at least after the first couple of months. In cases where the retainer is going to be needed for a long-term period, a common alternative is to have thin retainer wires bonded to the inside surfaces of the front teeth so they don't show.
Considering how much time, effort, and sometimes expense is required in improving your smile, the retainer is your assurance that it was all well spent. Even people getting a comparatively simple pedicure/manicure don't leave the salon without letting the polish dry!
If you would like more information about orthodontics and retainers, please contact us or schedule an appointment for a consultation. You can also learn more about this topic by reading the Dear Doctor magazine articles "Why Orthodontic Retainers?" and "The Importance of Orthodontic Retainers."
By Charles Dean
September 13, 2013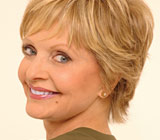 Life lessons are learned in the most surprising places. This is no different for celebrities. Take, for example, Florence Henderson, an actress, singer, philanthropist, author and star of the hit television series, The Brady Bunch. As she told Dear Doctor magazine, her experience with having four impacted wisdom teeth removed — at the same time — "...only made me more aware of how important dental care is." She continued, "This is why I have always gone every six months for a check up."
Another important lesson we want to share is the fact that even if your impacted third molars (wisdom teeth) are not bothering you or causing any pain, you may still need to have them removed.
Why? Having a tooth submerged below the gum, pressing on the roots of other teeth is problematic; the tooth should be removed so that you can avoid major dental problems before they occur. For example, it is not uncommon for us to find an impacted third molar pressing against the roots of the adjacent second molar. Furthermore, because the enamel crown of this impacted tooth is trapped below the gum, we sometimes find an infection, gum disease or even cyst formation occurring.
Often, the best time to remove a wisdom tooth is when it is not causing any problems. This is because a painful wisdom tooth or pain in the area of the wisdom tooth may be a sign that significant damage has occurred or is occurring. It is also better to remove wisdom teeth when you are young, as young healthy people with no prior infections at the site provide the best opportunity for us to remove the tooth with no complications.
To learn more about impacted wisdom teeth, continue reading the Dear Doctor magazine article "Removing Wisdom Teeth." Or if you suspect or already know that you have an impacted wisdom tooth, contact us today to schedule an appointment so that we can conduct a thorough examination that includes x-rays. During this private consultation, we will also address any questions you have as well as your treatment options. And if you want to read the entire article on Florence Henderson, continue reading "Florence Henderson."
Find Us
Beavercreek, OH Family Dentist
Beavercreek Dental Group
2385 Lakeview Dr, Suite A
Beavercreek
,
OH
45431
937-429-3160
Contact For Pricing Options
Our office has flexible hours to fit your busy schedule