Posts for: January, 2015
By Charles H. Dean DDS
January 28, 2015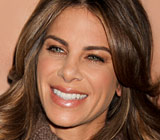 Jillian Michaels, personal trainer and star of television's The Biggest Loser isn't afraid of a tough situation — like a heart-pumping exercise routine that mixes kickboxing with a general cardio workout. But inside, she told an interviewer from Dear Doctor magazine, she's really a softie, with "a drive to be one of the good guys." In her hit TV shows, she tries to help overweight people get back to a healthy body mass. And in doing so, she comes face-to-face with the difficult issue of sleep apnea.
"When I encounter sleep apnea it is obviously weight related. It's incredibly common and affects millions of people," she says. Would it surprise you to know that it's a problem dentists encounter as well?
Sleep apnea is a type of sleep-related breathing disorder (SRBD) that's associated with being overweight, among other things. Chronic loud snoring is one symptom of this condition. A person with sleep apnea may wake 50 or more times per hour and have no memory of it. These awakenings last just long enough to allow an individual to breathe — but don't allow a deep and restful sleep. They may also lead to other serious problems, and even complications such as brain damage from lack of oxygen.
What's the dental connection? Sleep apnea can sometimes be effectively treated with an oral appliance that's available here at the dental office. The appliance, worn at night, repositions the jaw to reduce the possibility of the tongue obstructing the throat and closing the airway. If you are suffering from sleep apnea, an oral appliance may be recommended — it's a conservative treatment that's backed by substantial scientific evidence.
As Michaels says, "I tell people that [sleep apnea] is not a life sentence... It will get better with hard work and a clean diet." So listen to the trainer! If you would like more information about sleep-related breathing disorders, please contact us for a consultation. You can learn more in the Dear Doctor magazine article "Sleep Disorders and Dentistry."
By Charles H. Dean DDS
January 13, 2015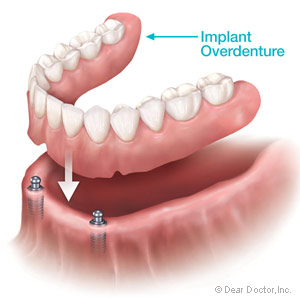 Some patients who wear dentures face a kind of Catch-22: their denture fit may have loosened and become uncomfortable over time due to continued bone loss, yet the same bone loss prevents them from obtaining dental implants, a superior tooth replacement system to dentures.
But there may be a solution to this dilemma that combines the stability of implants with a removable denture. A set of smaller diameter implants — "mini-implants" — can support a removable denture with less bone than required by a conventional implant.
Like all living tissue, bone has a life cycle: after a period of growth, the older bone dissolves and is absorbed by the body, a process known as resorption. The forces generated when we bite or chew are transmitted by the teeth to the jawbones, which stimulates new bone formation to replace the resorbed bone. When the teeth are lost, however, the stimulation is lost too; without it, resorption will eventually outpace bone growth and repair, causing the bone mass to shrink.
Removable dentures also can't supply the missing stimulation — bone loss continues as if the dentures weren't there; and due to the compressive forces of a denture, bone loss accelerates. As the jawbone structure used to originally form the denture's fit eventually shrinks, the denture becomes loose and difficult to wear. It's possible to adjust to the new jaw contours by relining the dentures with new material or creating a new set of dentures that match the current bone mass. Without adequate bone, fixed crowns or bridges anchored by conventional implants may also be out of the picture.
On the other hand, mini-implants with their smaller diameter need less bone than the traditional implant. A few strategically placed within the jaw are strong and stable enough to support a removable denture. One other advantage: these mini-implants can be installed in one visit with local anesthesia and usually without the need for incisions or stitches.
If you would like more information on dentures supported by mini-implants, please contact us or schedule an appointment for a consultation. You can also learn more about this topic by reading the Dear Doctor magazine article "The 'Great' Mini-Implant."
Find Us
Beavercreek, OH Family Dentist
Beavercreek Dental Group
2385 Lakeview Dr, Suite A
Beavercreek
,
OH
45431
937-429-3160
Contact For Pricing Options
Our office has flexible hours to fit your busy schedule