Posts for: May, 2017
By Charles H. Dean DDS
May 23, 2017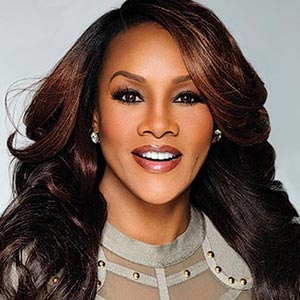 What's an actor's most important feature? According to Vivica A. Fox, whose most recent big-screen role was in Independence Day: Resurgence, it's what you see right up front.
"On screen, your smile and your eyes are the most inviting things that bring the audience in" she said. "Especially if you play the hot chick."
But like lots of people, Vivica reached a point where she felt her smile needed a little help in order to look its best. That's when she turned to a popular cosmetic dental treatment.
"I got veneers years ago," Ms. Fox told Dear Doctor magazine in a recent interview, "just because I had some gapping that probably only I noticed."
What exactly are dental veneers? Essentially, they are thin shells of lustrous porcelain that are permanently attached to the front surfaces of the teeth. Tough, lifelike and stain-resistant, they can cover up a number of defects in your smile — including stains, chips, cracks, and even minor spacing irregularities like the ones Vivica had.
Veneers have become the treatment of choice for Hollywood celebs — and lots of regular folks too — for many reasons. Unlike some treatments that can take many months, it takes just a few appointments to have veneers placed on your teeth. Because they are custom made just for you, they allow you to decide how bright you want your smile to be: anywhere from a natural pearly hue to a brilliant "Hollywood white." Best of all, they are easy to maintain, and can last for many years with only routine care.
To place traditional veneers, it's necessary to prepare the tooth by removing a small amount (a millimeter or two) of its enamel surface. This keeps it from feeling too big — but it also means the treatment can't be reversed, so once you get veneers, you'll always have them. In certain situations, "no-prep" or minimal-prep veneers, which require little or no removal of tooth enamel, may be an option for some people.
Veneers aren't the only way to create a better smile: Teeth whitening, crowns or orthodontic work may also be an alternative. But for many, veneers are the preferred option. What does Vivica think of hers?
"I love my veneers!" she declared, noting that they have held up well for over a decade.
For more information about veneers, please contact us or schedule an appointment for a consultation.
By Charles H. Dean DDS
May 08, 2017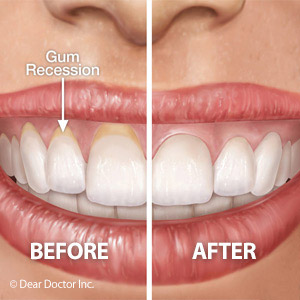 Your gums not only help hold your teeth securely in place, they also help protect them. They're also part of your smile — when healthy and proportionally sized, they provide a beautiful frame for your teeth.
But if they become weakened by periodontal (gum) disease, they can detach and begin to shrink back or recede from the teeth. Not only will your smile be less attractive, but you could eventually lose teeth and some of the underlying bone.
Treating gum recession begins with treating the gum disease that caused it. The primary goal is to remove the source of the disease, a thin film of food particles and bacteria called dental plaque, from all tooth and gum surfaces. This may take several sessions, but eventually the infected gums should begin showing signs of health.
If the recession has been severe, however, we may have to assist their healing by grafting donor tissue to the recession site. Not only does this provide cover for exposed tooth surfaces, it also provides a "scaffold" for new tissue growth to build upon.
There are two basic surgical approaches to gum tissue grafting. One is called free gingival grafting in which we first completely remove a thin layer of surface skin from the mouth palate or a similar site with tissue similar to the gums. We then attach the removed skin to the recession site where it and the donor site will usually heal in a predictable manner.
The other approach is called connective tissue grafting and is often necessary when there's extensive root exposure. The tissue is usually taken from below the surface of the patient's own palate and then attached to the recession site where it's covered by the surrounding adjacent tissue. Called a pedicle or flap, this covering of tissue provides a blood supply that will continue to nourish the graft.
Both of these techniques, but especially the latter, require extensive training and micro-surgical experience. The end result is nothing less than stunning — the tissues further rejuvenate and re-attach to the teeth. The teeth regain their protection and health — and you'll regain your beautiful smile.
If you would like more information on treating gum recession, please contact us or schedule an appointment for a consultation. You can also learn more about this topic by reading the Dear Doctor magazine article "Periodontal Plastic Surgery."
Find Us
Beavercreek, OH Family Dentist
Beavercreek Dental Group
2385 Lakeview Dr, Suite A
Beavercreek
,
OH
45431
937-429-3160
Contact For Pricing Options
Our office has flexible hours to fit your busy schedule