Posts for tag: dental implant
By Charles H. Dean DDS
July 10, 2020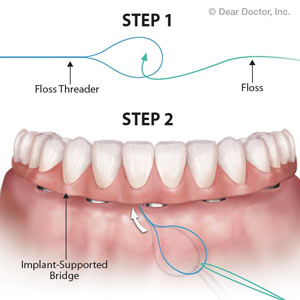 Losing your teeth can be a traumatic experience with serious consequences for your overall health. Fortunately, you have great options for replacing lost teeth that can restore both appearance and dental function.
One such option is a fixed bridge supported by dental implants. While implants are best known for single tooth replacement, they can also be used with other restorations like bridges. In this case, the bridge is screwed into a few well-placed implants to support it.
Implants can provide bridges with more security and support, and without the need to alter adjacent teeth that are commonly used for traditional tooth replacement. They may also slow or stop bone loss because the titanium in implants naturally attracts bone cells that grow and adhere to its surface and provide stimulation to the bone cells during function.
Because of these benefits an implant-supported bridge could be a life-changer that provides years of satisfaction. But we can't simply "set them and forget them": They require dedicated oral hygiene just like natural teeth.
While the bridge materials and implants themselves are in no danger from disease, the same can't be said for the implant's supporting gums and bone. Dental plaque, the main driver in gum disease, can place these tissues at risk for infection that could eventually lead to implant failure.
It's important, then, for you to floss around your new implants to remove any plaque. This differs from regular flossing in which you work the thread between teeth. Instead, you'll have to maneuver the floss between the bridge and gums with the help of a floss threader, a small slender tool with a loop at one end and a stiffer plastic edge at the other (similar to a sewing needle).
To use it, first run 18" of floss through the loop until you get equal lengths and then work the tail of the floss threader between the bridge and gums while holding one end of the floss. Once through, you pull the floss threader through so that the floss is on either side of the bridge. Then grab each end of the floss and pull it snug to floss up and down one side of the implant. Go to the next side and repeat this procedure for all the implants.
As an alternative, you could use an oral irrigator, which emits a pulsating spray of water to loosen and wash away plaque. Either way, though, it's important to floss around implants to get the most life out of your bridge.
If you would like more information on proper care for implant-supported restorations, please contact us or schedule an appointment for a consultation. You can also learn more about this topic by reading the Dear Doctor magazine article "Oral Hygiene for Fixed Bridgework."
By Charles H. Dean DDS
October 04, 2019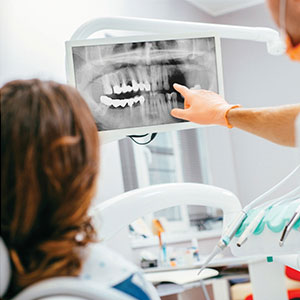 Years ago, disease or trauma robbed you of one of your teeth. At the time you might have opted for an affordable solution, like a partial denture. But now you'd like to restore that missing tooth with a dental implant, the most life-like tooth replacement available.
That's a great decision. But there may be a hiccup along the way to your new implant: the state of the underlying jawbone. Implants need a certain amount of bone for proper placement. If not enough is present, that may cause an interruption in your plans—and that could be a real possibility if your tooth has been missing for some time.
That's because, like other living tissues, bone has a growth cycle: Old bone cells die and dissolve, while new cells form to take their place. In the jaw, the force produced by teeth during chewing helps to keep this growth process in the bone functioning at a healthy pace.
When a tooth goes missing, though, so does this chewing stimulation. A lack of stimulation can slow the growth rate for that part of the bone and its volume can diminish over time. It's possible for a quarter of the bone volume to be lost within the first year after losing a tooth.
If you've experienced that level of bone loss, we may not be able to place an implant—yet. You might still have a few options. For one, we could attempt to regenerate some of the bone through grafting. Bone material grafted into the affected area can serve as a scaffold for new bone cells to form and adhere. Over time, this could result in a sufficient amount of regenerated bone to support a dental implant.
Another possibility might be to install a smaller diameter implant like those used to support removable dentures. Because they're smaller they require less bone than standard-sized implants. They're not for every situation, though, and are best suited for situations where aesthetics isn't a priority.
To know what your options are regarding an implant-based restoration, you'll need to undergo a thorough evaluation of your oral health, including supporting bone. Depending on your situation, you may still be able to renew your smile with this premier tooth replacement option.
If you would like more information on dental implants, please contact us or schedule an appointment for a consultation. You can also learn more about this topic by reading the Dear Doctor magazine article "Dental Implants After Previous Tooth Loss."
By Charles Dean
January 15, 2013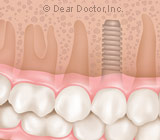 Twenty-first Century techniques can create a replacement for a missing or damaged tooth that looks exactly like a natural tooth and actually fuses with the bone of your jaw. How does this amazing technology work? Test your knowledge on these questions.
What is a dental implant?
A dental implant is actually a replacement for the root of a tooth. In the natural tooth, the root is the part of the tooth below the gum line that is suspended in the bone by ligaments that attach the root to the bone. An implant is a root like substitute that is directly attached to the bone by a process referred to as osteointegration. An implant crown is then attached to the implant and is the visible part that we see above the gum tissues.
What is a modern dental implant made of?
Most are made of titanium. This metal is not rejected by the body and in fact fuses with the bone in which the implant is anchored, making it extremely stable.
How long do implants last?
A successful implant can last a lifetime. Factors that can affect an implant's success are smoking, certain drugs, osteoporosis, a history of radiation treatment, or a compromised immune system. We will evaluate all your conditions of dental and general health before deciding on an implant for you.
What makes the crown look like a real tooth?
The new crown looks real if it matches the shape and color of adjacent natural teeth. Its appearance also depends on what we as dentists refer to as the emergence profile (the way the crown seems to emerge from the gum tissue).
What is the function of a temporary crown?
A customized temporary crown can allow details of color, shape, and emergence profile to be worked out during this "temporary" phase of treatment. It can also test whether the tooth will function correctly for speech, biting and chewing. After these details are worked out, the temporary crown can be used as a blueprint for the permanent one.
What is the first step to getting a dental implant?
Make an appointment with us for a full assessment, diagnosis, and plan for placing the implant and crown.
Contact us today to schedule an appointment to discuss any additional questions about dental implants. You can also learn more by reading the Dear Doctor magazine article "Dental Implants, Your Third Set of Teeth."
Find Us
Beavercreek, OH Family Dentist
Beavercreek Dental Group
2385 Lakeview Dr, Suite A
Beavercreek
,
OH
45431
937-429-3160
Contact For Pricing Options
Our office has flexible hours to fit your busy schedule