Posts for tag: invisalign
By Charles H. Dean DDS
September 21, 2018
Straighten Your Smile Discreetly With Invisalign
Crooked smile? Millions of people are turning to Invisalign as a hassle-free way to straighten their teeth. Invisalign is the clear alternative to metal braces. With Invisalign, you will be able to straighten your smile discreetly. Dentists, Dr. Charles Dean and Dr. Christopher Cripe, from Beavercreek Dental Group in Beavercreek, OH, offer orthodontic treatment with Invisalign to their patients.
Beautify Your Smile

Invisalign can improve your smile and make you feel better about yourself. Invisalign corrects the same problems as metal braces, including gapped teeth, crooked teeth, an overbite, crossbite, and overcrowded teeth. Invisalign straightens your teeth with a series of custom-made aligners. The aligners gently and continuously move your teeth in small increments.

Avoid Embarrassment

Are you horrified by the idea of metal "train track" braces? Teenagers and adults often prefer the subtle aesthetic appearance of Invisalign clear braces. You can straighten your smile without a mouthful of metal brackets and wires. Invisalign aligners are virtually invisible. Other people may not even notice you're wearing them. Many patients love the fact that Invisalign aligners are nearly invisible and that they work with their lifestyle.

Invisalign is Removable

Unlike traditional braces, Invisalign aligners are removable. You can occasionally remove your aligners and enjoy a special night out. With metal braces, you have to avoid eating certain foods because they can become stuck in your braces. With Invisalign, you will be able to eat whatever you want, whenever you want.

Improve Your Oral Health

Straightening your crooked smile can result in better oral health. It is difficult to clean between teeth that are misaligned, increasing the chances of tooth decay and periodontal disease. With Invisalign, you can floss and brush your teeth normally, which can help prevent tooth decay and gum disease.

Want a better life? Start with your smile. Call Beavercreek Dental Group at (937) 429-3160 today to schedule a consultation with your dentists in Beavercreek, OH. Invisalign has helped many people enhance their smiles, boosting their self-esteem and improving their lives, and it will do the same for you.
By Charles Dean
January 08, 2014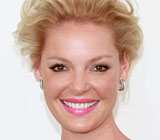 Many adults these days are opting for clear aligners to correct orthodontic problems that have long bothered them. Katherine Heigl is a perfect example. She had one tooth that was out of alignment, and wanted to have it fixed before her wedding day.
"I got them [clear aligners] because of this wonky tooth," Heigl told In Style magazine not long ago. "It's awesome because every two weeks you switch to a new retainer. Pretty much the perfect way to describe Invisalign is Netflix for your teeth."
That's actually a pretty good way to describe this highly user-friendly form of orthodontic treatment. Clear aligners are transparent, plastic oral appliances that are changed every two weeks so that your teeth can be moved a little bit at a time, according to a carefully staged sequence. Though they cover your teeth completely, clear aligners are barely noticeable.
In fact, when Heigl excused herself before taking out her aligners to eat, her In Style interviewer said, "Who knew you wore them? I guess that's the point of Invisalign."
Being able to remove the aligners for eating and, more importantly, teeth-cleaning, is another major advantage of this method of straightening teeth. Successful orthodontic treatment for adults depends on good periodontal health ("peri" – around; "odont" – tooth), and the best way to keep your gums and the underlying bone that supports your teeth healthy is to keep up an effective daily oral hygiene routine.
Clear aligners have been improved in recent years to correct more complicated malocclusions ("mal" – bad; "occlusion" – bite) than previously; they can even work well for teenagers. But there are still some cases that call for traditional braces. We would be happy to explore all the different options for orthodontic treatment with you, whether you have crowded teeth, an overbite or underbite, or just one "wonky tooth."
If you would like more information about clear aligners, please contact us or schedule an appointment for a consultation. You can also learn more about clear aligners in general by reading the Dear Doctor magazine article "Clear Aligners For Teenagers." Dear Doctor also has more on "Wedding Day Smiles."
By Charles Dean
April 20, 2013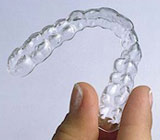 Years ago, if you hadn't received braces by the time you finished high school odds are you would never pursue orthodontic treatment. Most adults wouldn't have even dreamed of wearing braces! Thankfully, today, clear aligners have quickly become a popular alternative for adults who have mild to moderate crowding or spacing of teeth.
Unlike traditional orthodontic "braces" in which small (metal) brackets are attached to the teeth, clear aligners use a sequence of individual, clear, removable "trays" to straighten teeth. These trays completely cover each tooth and gradually move the teeth into new improved positions. Clear aligners can be used to realign mildly crowded or tipped teeth, to close small spaces between teeth and even treat elongated teeth.
Your clear aligners will be computer-generated based on current dental records. If you would like to find out if you are a candidate for orthodontic treatment using clear aligners, we will need a full set of records to properly assess your case starting with a thorough examination, taking radiographs (x-rays) of your teeth, jaws and skull, as well as photos and impressions of your teeth that can be used to create models. If you have a good bite, which means that your back teeth fit together properly, clear aligners should be a viable treatment option for you. However, if your upper and lower jaws don't align properly, resulting in a severe overbite or underbite, you will more likely need traditional orthodontic braces to straighten your teeth and improve your bite.
Each patient presents unique dental challenges. Cases vary, but you can expect to have to wear the aligners all day except when eating, for an average of anywhere from six months to two years. But don't worry about what others might think — clear aligners are barely noticeable at all.
If you are ready to improve your smile with this state-of-the-art orthodontic treatment, call our office today. To read more about clear orthodontic aligners, and to view photos that compare traditional orthodontics to clear alternatives, please read the article "Clear Orthodontic Aligners: An Alternative For Adult Orthodontics" in Dear Doctor magazine.
Find Us
Beavercreek, OH Family Dentist
Beavercreek Dental Group
2385 Lakeview Dr, Suite A
Beavercreek
,
OH
45431
937-429-3160
Contact For Pricing Options
Our office has flexible hours to fit your busy schedule