Posts for tag: periodontal disease
By Charles H. Dean DDS
February 26, 2019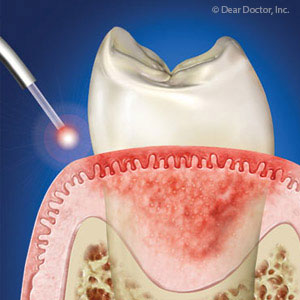 There are a variety of methods for treating periodontal (gum) disease depending on its severity — from routine office cleanings to periodontal surgery. But the goal behind all of them remains the same: remove bacterial plaque and calculus (tartar), the root cause for gum disease, from all tooth and gum surfaces.
The traditional method for doing this is called scaling in which we use special hand instruments (scalers) to mechanically remove plaque and calculus. Scaling and a similar procedure called root planing (the root surfaces are "planed" smooth of plaque to aid tissue reattachment) require quite a bit of skill and experience. They're also time-consuming: full treatment can take several sessions, depending on how extensive the infection has spread.
In recent years, we've also seen a new method emerge for removing plaque: lasers. Commonly used in other aspects of healthcare, lasers utilize a focused beam of light to destroy and remove diseased or unhealthy tissue while, according to studies and firsthand accounts, minimizing healthy tissue destruction to a better degree than traditional techniques. Procedure and healing times are likewise reduced.
Because of these beneficial characteristics, we are seeing their use in gum disease treatment, especially for removing diseased and inflamed tissues below the gum line and decreasing sub-gingival ("below the gums") bacteria.
Dentists who have used lasers in this way do report less tissue damage, bleeding and post-treatment discomfort than traditional treatments. But because research is just beginning, there's not enough evidence to say laser treatment is preferably better than conventional treatment for gum disease.
At this point, lasers can be an effective addition to conventional gum disease treatment for certain people, especially those in the early stages of the disease. As we continue to study this technology, though, the day may come when lasers are the preferred way to stop gum disease from ruining your dental health.
If you would like more information on treating gum disease, please contact us or schedule an appointment for a consultation. You can also learn more about this topic by reading the Dear Doctor magazine article "Lasers Versus Traditional Cleanings for Treating Gum Disease."
By Charles H. Dean DDS
November 20, 2015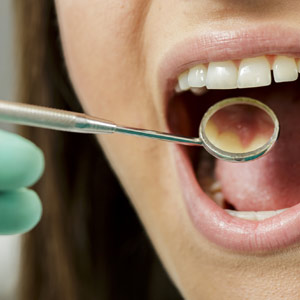 After a dental examination revealed you had periodontal (gum) disease, you began undergoing treatment. Now after several cleaning sessions, the infection has subsided and your gums have returned to a healthy shade of pink.
But your gum care isn't over — depending on the infection's severity you may need to visit us more often than the normal six months between regular checkups.
Gum disease arises from dental plaque, a thin film of bacteria and food remnants built up on tooth surfaces due to poor oral hygiene. The bacteria cause an infection in the gums, which initiates a response from the body's immune system that triggers inflammation.
Without proper treatment, periodontitis can come back in which the infection spreads deeper below the gum line. Pockets of infection can reoccur as gum tissues weaken and lose their attachment to teeth. This continuing damage can ultimately lead to both tooth and bone loss.
To stop the disease it's necessary to remove all the infection-causing plaque and calculus (hardened plaque deposits) from tooth surfaces, including around the roots. This is performed manually and could require surgery once again to access areas below the gum line.
To guard against this it's necessary for you to undergo regular periodontal maintenance (PM). Besides cleaning, PM gives us an opportunity to check for signs of returning gum disease and, if found, plan for another round of treatment.
Although not written in stone, the interval between PM appointments that seems the most effective for preventing recurrence is every three months. In cases of advanced, aggressive gum disease, appointments may need to occur at even shorter intervals, for example every two months.
PM for susceptible patients with decreased resistance to disease require extra time and effort for the hygienist, along with a renewed daily hygiene habit of effective brushing and flossing by you to keep the disease at bay. But preventing another occurrence of gum disease and its consequences is well worth this extra attention for the health of your teeth and gums.
If you would like more information on dental care after gum disease treatment, please contact us or schedule an appointment for a consultation.
By Charles Dean
March 31, 2014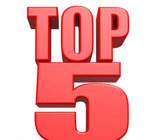 Do you have gum disease? According to the U.S. Centers for Disease Control, about half of the adults in America have a mild, moderate or severe form of this disease. But if you're 65 or older, your chance of having it goes up to 70 percent! Periodontal (gum) disease is sometimes called a "silent malady" because major symptoms may not appear until it has reached an advanced stage. How can you recognize the early warning signs? Here are some clues to look for:
Redness and irritation of gums. Having red, swollen or sore gums can be a sign of gum disease; however, it could also result from brushing your teeth too vigorously, or using a brush with hard bristles. That's why we recommend using a soft-bristled brush and a gentle cleaning stroke. If you're doing this but you still have irritated gums, it could be an early signal of gum disease.
Bleeding when you brush. Despite what you may think, this is never a normal occurrence. If your gums regularly bleed after brushing, it's usually an indication that gum disease is present. You should come in for an examination as soon as possible.
Bad breath or a bad taste in your mouth. Bad breath or unpleasant tastes could be caused by what you ate last night — or they could result from gum disease. If the odor or taste is persistent — that is, if it doesn't seem to go away over time — it could indicate a problem with your gums.
Gum recession. When you have gum recession, the healthy, pink tissue surrounding the teeth begins to pull back, or recede. This exposes more of the tooth's structure — even its roots — and makes teeth look longer. While gum recession is a common condition that is primarily caused by periodontal disease, many people don't realize they have it because it occurs so gradually. They also may not realize that by the time it is noticed, some underlying bone tissue has already been lost. Gum recession is a condition you shouldn't ignore: If left untreated, it can result in the destruction of more gum and bone tissue, and even tooth loss.
Tooth Sensitivity or pain when chewing. Many things can cause tooth pain or sensitivity: an old filling, tooth decay, even a cracked tooth or a root canal problem. Gum disease can also cause this unpleasant sensation. Receding gums may expose the tooth's roots, which aren't as well protected from the mouth's harsh environment as the chewing surfaces; this may cause a sensation of pain when chewing or brushing. If this sensation persists, it's time for an examination to find out what's causing it.
Gum disease is a widespread problem — but it's also very treatable. If you would like more information, call our office to arrange a consultation. You can learn more in the Dear Doctor magazine articles "Warning Signs of Periodontal (Gum) Disease" and "Understanding Gum (Periodontal) Disease."
Find Us
Beavercreek, OH Family Dentist
Beavercreek Dental Group
2385 Lakeview Dr, Suite A
Beavercreek
,
OH
45431
937-429-3160
Contact For Pricing Options
Our office has flexible hours to fit your busy schedule